Innovative recruitment program attracts and swiftly transitions industry experts into TAFE Queensland teachers
TAFE Queensland trains industry experts into teachers within one year, whilst providing mentorship, classroom experience, and a salary.
Overview
TAFE Queensland was experiencing some of the widespread Vocational Education and Training recruitment challenges, covered in a new research paper from the National Centre for Vocational Education Research
To address this issue proactively and internally, TAFE Queensland designed, developed, and implemented the 'Foundation Educator Program', to recruit industry experts and train them as TAFE Queensland teachers, within one year
Since its 2020 implementation, 41 industry experts have become or were originally employed as Foundation Educators, with 17 of these having transitioned into TAFE Queensland teachers at time of publishing.
Uniquely, TAFE Queensland's own future teaching workforce was the 'customer' - the registered training organisation being the largest, most experienced training and educator provider in the state delivering practical, industry-relevant training across a range of industries from entry-level certificates to bachelor degrees, at more than 50 campus locations in Queensland..

Opportunity
"Attracting teachers from certain industries, particularly trades, had been a long-standing challenge. Our unrivalled expectations for teaching quality and training excellence see TAFE Queensland teachers required to have not only current industry/ trade qualifications and significant experience, but also a minimum of a Certificate IV in Training and Assessment (TAE40116), to teach.
"For many working in industry, completion of the Certificate IV in Training and Assessment (TAE40116) was an additional time constraint (and a financial cost) in their lives they couldn't accommodate, and unfortunately for TAFE Queensland, we were missing out on the opportunity to successfully recruit valuable industry expertise and new talent, due to this requirement," explained Jodie Wong, Deputy Chief Human Resources Officer, TAFE Queensland.
Solution
"Recognising the need for additional 'talent pools' TAFE Queensland introduced the Foundation Educator Program after several months of comprehensive consultation, design, and development.
The Foundation Educator Program creates a new talent pipeline entry point where within 12 months, new recruits can complete their Certificate IV in Training and Assessment (TAE40116) through TAFE Queensland (fully funded), practise their skills in a supervised environment, and be provided with mentoring from other experienced teachers – all whilst being employed as a Foundation Educator, and thus being paid. And, at the completion of their Certificate IV in Training and Assessment (TAE40116), Foundation Educators can then transition to teaching or tutoring positions with TAFE Queensland," Ms Wong detailed.
Operationally, and more specifically as Foundation Educators progress through each stage of their training qualification, their responsibilities within the classroom increase, under the guidance of the Foundation Educator's appointed Supervisor, who acts as a 'mentor' to, and assesses and confirms the Foundation Educator's required skills and competencies.
To introduce the new Foundation Educator program, information sessions were held internally, advising current TAFE Queensland staff of this new pathway (for their workforce development and succession planning). Externally, Ms Jenni Butler, Executive Director of Studies, has and continues to champion the program, actively promoting it during community information sessions on how to become a TAFE teacher.
Ms Butler offered; "One of the many reasons this program works is because mentoring works. Experience works. My mentor taught me it's not about reading out of a textbook. It's about thinking; how do you interact and engage and get the best out of each one of those learners? And that's understanding the students – the 20 different personalities you have in that classroom. This Foundation Educator Program – the way we're 'onboarding' some of our new teaching staff with mentoring and experience in the classroom – I truly believe in it. And that's the feedback we're getting from the Foundation Educators themselves too – that the classroom experience and the mentoring sets them up so very well for their teaching careers.
"I've been with TAFE Queensland for a long time – 26 years and have held nine different positions. I started as a tutor after completing my Certificate IV in Training and Assessment (TAE40116) through night classes, after working full-time as a hairdresser in a salon during the day.
"These days there are significantly more time and family pressures and work commitments for individuals – especially for those who are industry experts – who've been in their trade for a significant period. So, still earning, whilst moving into the next phase of their career – training to be a high-quality teacher – and bringing all their experience – but not eating into family time – this is very beneficial to us at TAFE Queensland, and, appealing to them, as people juggling commitments and families, trying to make it all work," Ms Butler continued.
Results
Since the program commenced:
41 new employees have been or are currently engaged as Foundation Educators
17 Foundation Educators have graduated and transitioned to teaching positions
Trade areas that have benefited from this new stream of industry experts include agriculture, automotive, refrigeration/electrical, manufacturing, engineering, construction, and community services.
Kim McNair, having worked intensively in various community sector roles for the past 13 years, is one of those new Community Services teachers who has successfully moved from working in industry into education and is now teaching Certificate III, IV and Diploma level qualifications, and said this of her experience as a Foundation Educator; "It is a great pathway to teaching at TAFE. You will be supported, mentored and at the end of your course you'll be rewarded with a qualification and a career as an educator that you will be proud of."
Kevin Pitt, now a TAFE Queensland SkillsTech Automotive Mechanical Teacher after 14 years' experience working at Mitsubishi, Kia, Nissan, and Hyundai, also shared his experience of going through the Foundation Educator Program, noting; "When I started my training certificate I thought it would take me up to five years to get a position with TAFE Queensland (my dream training job), but the Foundation Educator Program made a huge difference to that timeframe," Kevin said.
The program's one-year timeframe for successful completion, followed by the subsequent teaching position, has proven a clear selling point, as has the mentorship the (Foundation Educator) program provides.
"Having the benefit of working with truly experienced educators definitely helped me attain my Certificate (in Training and Assessment), as they were able to give me a lot of guidance and context on the subjects. The teaching and support staff in my department are great, very supportive and inclusive. Starting a new career was initially very intimidating but with their support it has been the best decision I have made," added Kevin.
Future plans
TAFE Queensland is very satisfied with this method of attracting and training high quality and experienced teaching staff, as part of its ongoing and recognised commitment to training excellence.
"It is expected that this program will continue indefinitely. The program firmly has a place in our range of recruitment options," said Ms Wong in support.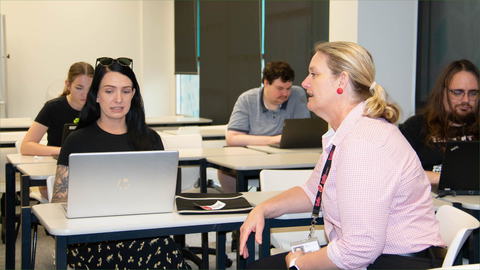 You will be supported, mentored and at the end of your course you'll be rewarded with a qualification and a career as an educator that you will be proud of