Skilling locals and 'engineering' futures
TAFE Queensland trains boss and future boilermakers, 30 years apart.
Overview
Field Engineering Services uses TAFE Queensland to train its apprentices and school-based apprentices at the Mount Isa campus.
John Green, part-owner, appreciates TAFE Queensland's flexible and accommodating approach to training his engineering staff – which includes accelerating training for those who seek it, and he is impressed with the campus setup.
Field Engineering Services will continue to source employees from, and use TAFE Queensland for its apprentice training as John has always liked TAFE Queensland's professionalism, can-do attitude, and finds all of the staff "awesome."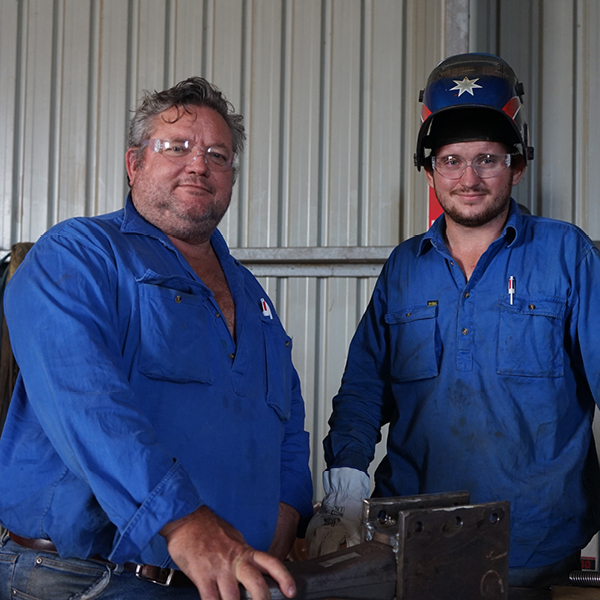 Field Engineering Services
Field Engineering Services is based in Cloncurry and specialises in engineering, fabrication and mechanical repairs. TAFE Queensland has been working with John Green to provide high quality and passionate boilermakers, diesel fitters and mechanics, and, to train his apprentices, and school-based apprentices.
Field Engineering Services has a strong relationship with the TAFE Queensland Mount Isa campus, and some 'nostalgia' too, as John himself completed his own boiler maker qualification there, some thirty years ago.
Opportunity
John Green is very passionate about training locals, saying he'd give anyone a go – regardless of qualification or age, providing they've got an appetite to learn and will stick with it. John's own son, Jack Green, sought to complete a Certificate III in Engineering – Fabrication Trade (MEM30305), swiftly, and TAFE Queensland was able to accommodate this, in addition to providing traditionally-paced training to his other apprentices.

Solution
TAFE Queensland operated flexibly, progressing Jack Green through his qualification within two years as opposed to the typical four (years), ensuring his absolute competency along the way.
"I think it's a smart move for TAFE Queensland to accommodate those kids who are passionate about their trade and are keen to complete their training early, which is what Jack's done. They still have to get through and pass everything to be signed off as competent," commented John.
Results
"I've never had any problem from any workers who have been through TAFE Queensland. My qualified diesel fitters went through TAFE and I've got two kids signed up for diesel fitting in school-based apprenticeships at the moment," John said.

Future plans
"I want to continue to work with TAFE Queensland in Mount Isa to find suitable locals who want to become tradesmen/women. I'm passionate about Cloncurry and about building local kids from the ground up," John said.